Kiến thức
REVIEW: Up-and-coming acts Bron Don, Daephne and Bay Faction return home to Boston – The Daily Free Press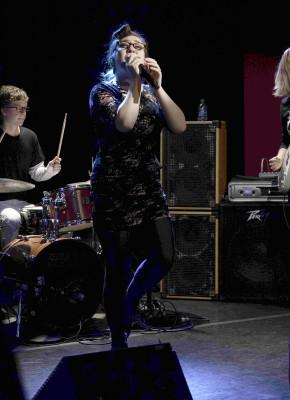 Bron Don, a band that began at the Berklee College of Music in 2013, played its hometown Friday night, entertaining an audience with a reggae-infused alternative rock performance.
Hosted at the Red Room at Cafe 939, the night included performances from up-and-coming Boston bands Daephne and Bay Faction. Despite the limited turnout, the intimate space emphasized the support of local bands.
Daephne opened the night with "Tiny Flame," a rock-grunge piece intertwined with soft vocals. A self-described "emo-turned-bummer rock" band, the group entertained an audience of around 40 with songs titled "If This is Living the Dream, Then I Want to Wake Up" and "Sharpness is the Game I Play".
The atmosphere felt more like a laid-back music club than an alternative rock concert venue as people lounged on couches and sat down in front of the stage. In between songs, the quiet audience was a sharp contrast to the loud and sometimes harsh punk sounds of the band.
Daephne finished its performance with "Winona Ryder," a song that started slowly and progressed into moments of intense guitar playing.
Bay Faction, an indie rock group, was up next. The trio created a fast-paced atmosphere as people rose to their feet and gravitated towards the stage.
Black-clad and very punk, the members of Bay Faction seemed comfortable on stage. Their performance was infused with dark and passionate tones, complete with occasional quirky facial expressions and raw lyrics.
They began with a smooth song that set an energetic tempo for the rest of their set. It was not quite head-banging, but definitely head-bobbing.
Many of the band's songs were highlighted with expressive guitar solos that emphasized the brooding nature of the lyrics, which were straightforward, personal and almost refreshing in the way blunt remarks can be.
During Bay Faction's performance of the song "Sasquatch", there was something remarkably appealing about hearing lead singer James McDermott sing, "I started catching feelings for the girl that I'm currently having sex with, so it's safe to say we don't talk anymore."
Bay Faction ended with "Jasper Wildlife Assoc.," which showcased Kris Roman's talent on bass. It ended the set with an angry tone.
Nevertheless, excluding a strange moment when McDermott leapt off the small stage mid-song to do a quick lap through the confused crowd, Bay Faction performed a high-energy, unique show.
In between sets, crowd members had a chance to mingle with the band, creating a casual, low-stress Friday night mood. Music played as well, a standout being Rupert Holmes' "Escape (The Piña Colada Song)".
By the time Bron Don stepped onto the stage, the crowd had grown to an excitedly buzzing group of around 60 people.
During a cover of Afroman's "Crazy Rap", an energetic concertgoer in the front row sang along lyric-for-lyric with lead singer Mitchell Cardoza. The singer laughed as he completed the jazzy rendition of the Afroman classic.
The band followed with a cover of "Carry On My Wayward Son" by Kansas. Cardoza said it had always been a dream to play the Guitar Hero jam for an audience, and it was visibly clear that the other band members — Michael Cangemi, John Cattini and Colin Mohr — had fun playing the hardcore, rock 'n' roll piece.
At one point in the show, when Cardoza casually asked for requests from the audience, people started calling out their own personal favorites. Requests included some of the band's original songs and popular hits today.
One gutsy audience member suggested Fetty Wap and Cardoza was so humored by the request that he sang a short line from the popular hit "Trap Queen".
Bron Don finished off the night with a cover of Bob Marley's "Zimbabwe." With Cardoza's captivating voice and the band's obvious chemistry, they perfectly captured the essence of reggae music.
Though the night started out a little slow, it ultimately grew into a culmination of local talent and renewed appreciation of small bands.
Chuyên mục: Kiến thức